INNOVATIVE ACCESSORIES FOR ALL BRANDS OF STRIMMER / BRUSH CUTTER !!!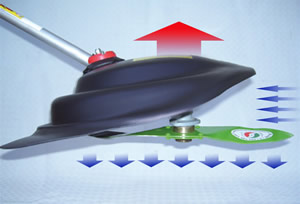 CONVERT EASILY YOUR STRIMMER / BRUSH CUTTER INTO A NEW HOVER TRIMMER WITH SPECIAL AND INNOVATIVE FEATURES!
The NEW PROPELLER SHAPED BLADE SLAM for brush cutter / strimmer made of special stainless steel is manageable and virtually weightless as it floats at 2-3 cm over the ground on a cushion of air. The grass is absorbed, pulverized and disappears, creating environment friendly-fertilizer, no more raking and sacks to empty.
The SLAM MULCHING blade makes your job easier and eco-friendly.

Head to toe operator protection with the new UNIVERSAL HIGH PROTECTION SAFETY SHIELD / CARTER. The operator is no longer showered with debris and cuttings and is able to work EASILY, FASTER and SAFE. The special SHIELD GUARD PROTECTOR protects your trees and fences.
The AERODYNAMIC PROPELLER SHAPED BLADE cuts young saplings, weeds, bushes, up to 1,5 cm in diameter.
Apply easily the NEW UNIVERSAL KIT (PROPELLER BLADE + HIGH PROTECTOR GUARD) on your grass trimmer / brushcutter. CONVERT IT INTO A MULCHING BRUSHCUTTER / STRIMMER / SCRUBCUTTER.
"FUEL CONSUMPTION, POLLUTION AND WORK TIME REDUCED BY 50%."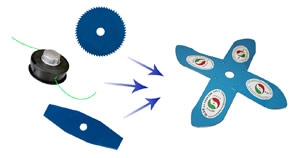 Prize-winning design at
the NATIONAL INVENTIONS FAIR REGGIO EMILIA OF ITALY.
SLAM COMPANY IS THE ONLY EXCLUSIVE OWNER and PRODUCER OF THIS PATENTED PRODUCT. IF YOU WOULD LIKE TO COMMERCIALIZE OUR PRODUCTS PLEASE CONTACT US. ANY PARTENERSHIP WILL BE REGULATED BY CONTRACT.
DISTRUST COMPANY THAT STATES TO HAVE GLOBAL EXCLUSIVITY, WE DO NOT GRANT ANY GLOBAL EXCLUSIVITY. PLEASE CONTACT US IF ANY COMPANY STATES THAT, WE WILL TAKE LEGAL STEPS AGAINST IT.